Summary
Location Course Dates
Next course dates 
Bjelke Petersen Dam 
By arrangement with dam management, we can manage 1 more course before Christmas - Sunday 17 December. This course is now fully booked.
Next courses at BP Dam will be after the school holidays - Watch for dates in February 2024.
Boondooma Dam  - to be advised
Preparation:
As we have limited phone/internet access at these dams, students must complete our online theory study course by the Thursday prior to the weekend courses. We cannot access course results after that and students cannot participate in the practical part of the course unless there is evidence of completion of the online component. There is no upfront charge to enter our online course.  Numbers are strictly limited to meet government mandated course timeframes. Book early to secure a spot.
PRICES
Online theory courses- no charge
Boat licence course - $400 (includes assessment - no hidden fees)
Jet ski licence course - $400 (includes assessment - no hidden fees)
Combined Boat and jet ski licence course- $750 (includes assessment - no hidden fees)
Group discounts are available - ask us for details.
Reassessment fee -  If a person is unsuccessful in their theory or practical assessment and needs to re-attend, a reassessment fee may be charged.  However, there is no charge if you can fit into another course from our planned schedule. A fee of $100 per licence per attempt will be payable if we need to make a special arrangement with you.
Location Course Fees
5 STEPS TO GET A BOAT OR JET SKI LICENCE:
The sequence of these may vary due to limitations such as weather. It is required that the online theory is completed before any other step and the theory assessment is successfully passed before being permitted to do the practical assessment.
1. Enrol in and complete our online boat or jet ski theory training course with no upfront cost. The online courses include quizzes to develop your knowledge and understanding but they are not your course assessment. Once the online course is completed, book the theory assessment date as soon as possible as there is only 3 months permitted to commence the theory assessment.
2. Contact us to arrange the theory assessment, pay the course fee and receive a student information pack which includes our refund policy. Meet us at the scheduled time and date at our air-conditioned training rooms at the Sunshine Coast or South Burnett (or other suitable location by arrangement). Complete a multiple choice test of your theory knowledge. Using the resources of our classroom, we will retrain you on any topics with incorrect answers. You have two attempts to earn 100% correct answers. If still unsuccessful after two attempts a different exam on a separate day can be arranged after further training for an additional fee.
3. Once successful with the theory assessment, it is time for the on-water practical boat or jet ski training which will typically be in a small group of three to four people (one-on-one for jet ski) to prepare everyone for their practical assessment. You will practice: person overboard drill (don't worry – nobody has to jump overboard), emergency stop, safely approach a floating object, port and starboard turns both on and off the plane, figure 8 manoeuvre both on and off the plane, berthing and unberthing, general navigation, vessel control, situational awareness and understanding speed and distance-off requirements
4. The practical assessment will need to be completed to the BoatSafe standards to be marked as competent. In some cases, extra training may be required before a person is ready for assessment. The trainer may suggest this, but it will be the student's decision to move forward to assessment. If a student is deemed "not yet competent" they will be offered the chance to book a date to be reassessed on any competencies marked unsuccessful for an additional fee. This must be done within 3 months.
5. Once a student is marked successful with their practical assessment, they are deemed competent­ to operate a recreational boat - or jet ski if included - and will be issued with a Statement of Competency (SOC). This is not a licence. The SOC must be presented to the Department of Transport and Main Roads within 6 months to be processed into a Recreational Marine Driver Licence (RMDL) or a Personal Water Craft Licence (PWCL).
Location Details
We regularly visit the South Burnett to run courses for your Recreational Marine Drivers Licence and Personal Water Craft Licences. Allstate Boat Licensing and Training is the preferred Boat Safe training provider for the following locations: Imbil (Borumba Dam), Kingaroy, Goomeri, Wondai, Nanango, Yarraman, Murgon, Proston, Dalby, Mundubbera, Gayndah (Bjelke Petersen Dam and Boondooma Dam)
Persons under 15 years and 6 months are not eligible to attend the courses and are not permitted at the training.
Come and enjoy the relaxed and informative environment of our courses at the South Burnett.
South Burnett district at Bjelke Petersen Dam near Murgon and Boondooma Dam near Proston.
Trainer Details
Jeff Guinea is our South Burnett trainer and is a well respected ex officer of the Queensland Boating and Fisheries Patrol. This background brings a thorough legal understanding and a strong safety perspective to the courses.
Jeff has Coxswain and Master Class 5 qualifications and extensive experience throughout Queensland.
Jeff holds the TAE 40116 Certificate IV in Training and Assessment.
What you can expect
Our proven professional reputation and experience, a comfortable and relaxed atmosphere, thorough and well run courses and value for money.
Easy to follow comprehensive training courses designed to accommodate everyone from the first time boatie to the more experienced.
An excellent online learning course - at no upfront cost - where you study in your own time and at your own pace.
A theory refresher session with the trainer before you are asked to do the theory assessment multi choice questions.
A "Safe Boating in Queensland" Workbook to keep for future reference - valued at $20 and endorsed by the Boating Industry Association.
Small practical class sizes - less pressure for our students - and more time to practice your skills. We can seat 6 students plus the trainer but usually limit the course to 3.
Unsuitable weather, illness or mechanical problems can necessitate course postponement or delay though.
A 5.35 metre bowrider speedboat with full bimini for shelter. There is comfortable seating for up to 7 and it is powered by a 2022 Mercury 115hp outboard motor.
For those doing the jet ski licence course, we have our own 2022 Kawasaki Ultra LX jet ski, renowned for handling, ride, stability and simplicity of controls.
What To Bring
Identification: Current Driver Licence, School Identification, Passport, Birth Certificate or 18+ card. If necessary call us to discuss other options.
- Payment: Bank Transfer, Cash or Eftpos by special arrangement.
- Clothing suitable for a boat or jet ski that is exposed to wind, sun and rain – we will be on the water. Please check the weather forecast.
- The boat has a full sunshade/canopy for sun protection and some shelter from light rain. A hat, polarised sunglasses and sunscreen are still recommended.
- Please wear footwear when attending your training and assessment. Shoes may need to be removed to board the boat or Jet Ski unless waterproof.
- Packed lunch and water.
Location Gallery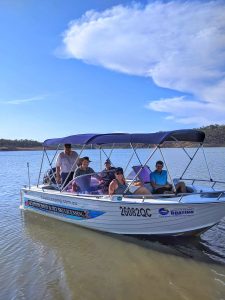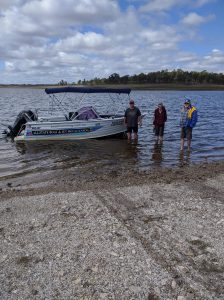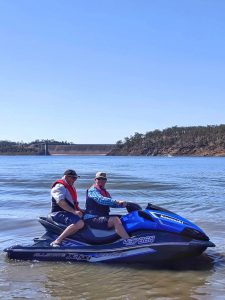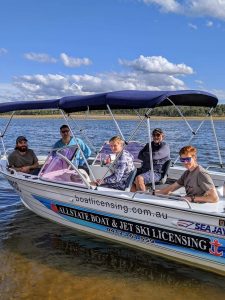 Testimonials
Jeff is a brilliant instructor. I have a long and distinguished career as a high school teacher and senior member of the teaching executive for talented students and I can tell you that teachers of Jeff's calibre do not come along very often. I picked his school at random from the internet and I feel as though I won the educational lottery when I signed up with him. He is patient, talented, encouraging, interesting, experienced and humble – a rare and winning combination in any industry. I have enrolled in boating courses before and have been a member of a very experienced boating club whose members have thousands of hours experience between them. I have sailed with people who have won Sydney to Hobart yacht races, raced in Fastnet, crossed the Atlantic, the North Sea, the Coral Sea, cruised the Med and the Carribean and I can tell you confidently that no-one comes close to this man's natural gift for gently encouraging and inspiring confidence. If you sign up to this school, you are honestly getting the very best of the best teaching available.
Dee Taylor
A very interesting coarse. I would truly recommend Jeff Guinea. If you wanted to know anything about boating, this man knew it. He's a walking marine Encyclopaedia. This man and his coarse taught me a lot and thanks to Jeff I now have a basic knowledge of reading waters, markers,winds etc. If you need a coarse in boating give Jeff a call. You won't be disappointed. Trevor Lutkin
A big thanks to Jeff on the Sunshine Coast. And thanks to all the team members for an amazing way to obtain my boat license. The on line corse was really informative and the way it is set up is just so good. On the day I did my practical Jeff's knowledge of boating rules and regulations was second to none, and the information he passed on to me will be a great help when I am on the water. Once again thank you very much for all the help and support.
David Lister.