Summary
Location Course Dates
Next course date
Saturday 18th June - Brisbane Coast Guard, Manly Harbour
June -
Sunday 19th June - Brisbane Coast Guard, Manly Harbour
Wednesday 22nd June - Brisbane Coast Guard, Manly Harbour
Friday 24th June - Brisbane Coast Guard, Manly Harbour
Saturday 25th June - Brisbane Coast Guard, Manly Harbour
Sunday 26th June - Brisbane Coast Guard, Manly Harbour
Wednesday 29th June - Brisbane Coast Guard, Manly Harbour
Thursday 30th June - Brisbane Coast Guard, Manly Harbour
July - 
Friday 1st July - Brisbane Coast Guard, Manly Harbour
Saturday 2nd July - Brisbane Coast Guard, Manly Harbour
Sunday 3rd July - Brisbane Coast Guard, Manly Harbour
Wednesday 6th July - Brisbane Coast Guard, Manly Harbour
Friday 8th July - Brisbane Coast Guard, Manly Harbour
Saturday 9th July - Brisbane Coast Guard, Manly Harbour
Sunday 10th July - Brisbane Coast Guard, Manly Harbour
Wednesday 13th July - Brisbane Coast Guard, Manly Harbour
Friday 15th July - Brisbane Coast Guard, Manly Harbour
Saturday 16th July - Brisbane Coast Guard, Manly Harbour
Sunday 17th July - Brisbane Coast Guard, Manly Harbour
Wednesday 20th July - Brisbane Coast Guard, Manly Harbour
Friday 22nd July - Brisbane Coast Guard, Manly Harbour
Saturday 23rd July - Brisbane Coast Guard, Manly Harbour
Sunday 24th July - Brisbane Coast Guard, Manly Harbour
Wednesday 27th July - Brisbane Coast Guard, Manly Harbour
Friday 29th July - Brisbane Coast Guard, Manly Harbour
Saturday 30th July - Brisbane Coast Guard, Manly Harbour
Sunday 31st July - Brisbane Coast Guard, Manly Harbour
Complete the Online Training Course and the Practical Assessment can be Completed Most Days of The Week!
Please Call For Further details and Bookings !
Another course for North Stradbroke Island at the Little Ships Club coming soon - Enquire now for details!
Location Course Fees
Boat Licence Course
$300 - 1 person
PWC Licence Course
$250 -1 person
Boat & PWC Licence Combined Course
$500 -1 person
Re-Assessment Fee - $100 per licence (if the theory or practical assessment is unsuccessful)
PAYMENT
Payment is cash on the day when attending the course or a bank transfer prior to the day.
Large groups, Schools and clubs are our specialty, contact us for custom packages and suitable dates
GIFT VOUCHERS AVAILABLE - PLEASE CALL TO ORGANISE
Location Details
Brisbane Coast Guard - Manly Harbour
4 Trafalgar Street, Manly 4179
What To Bring
Bring ID, water bottle, sunglasses, payment, fun attitude, camera and Friends!
Location Gallery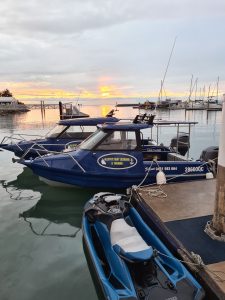 Testimonials
Recent Testimonials -
"Steve took us out and it was such a pleasure to gain his valuable knowledge and his experience in boating was second to none. It felt more of an in depth training session then a licence test and made everyone on board feel comfortable and entertained. I would recommend anyone looking to get there marine and or PWC licence through these guys as it was safe, fun and an enjoyable day. Thanks again Steve!!!" Wesley Wilkinson
"A big huge sincere thankyou to yourself, Daryl and young Steve for an awesome course filled with great knowledge, personal insight and a powerfull positive emphasis on safety that is now Brendan and my boating foundation to begin building on forever. I have left an amazing review on your website and Daryl was spot on when he said this course will far exceed our expectations. You 3 guys are masters of your craft and so friendly we could of chatted for hours with you all about your life on the water and skills. I took a heap of written notes on the day to do a safety audit on the boat also some further research and the booklet you provided stays in the boat as well. You guys should be so proud of the fine job you all do and the high standard you all set for us new boaties.😊"
"Hi Stephen, just a quick note to say thanks for a brilliant course - we thoroughly enjoyed it and will be recommending it to friends etc. Please extend my thanks to the others. Regards Russell"
"Thanks for a great day Stephen. Very well conducted course and taught by an experienced captain / teacher. From Mitchell & Sharon Rogers."
"Hello Darryl and Steve,
Thank you for an enjoyable day on your course - I found it very informative and would recommend it to others, Steve was excellent out on the water.
Have a good week.
Regards
Catherine Barnes"
"Had a great day mate. Learned a lot and had some bloody good laughs along the way. I would definitely recommend you to others."
Jeremy
"Gday Stephen
Just a quick note to say thank you to yourself and Darryl for yesterday's boat licensing course.
I attended the course because I needed a boat license but got far more out of the course than that.
The session was extremely well delivered, informative and enjoyable, the whole day seemed like only a couple of hours.
I have no doubt that while passionate people like yourself and Darryl are delivering courses like this, far more people having a safer more enjoyable boating experience.
Thanks again
Tony"
"Hi Stephen
Loved last weekend. Was so good. The training was awesome!! Went to transport yesterday and got my licence ordered. So all good to go now.
Robin Waller my husband will definitely be there this Saturday. We were trying to get a friend to also go as well, but he's non-commital.
Jeni (pink jumper on your left)"